Participating artists:
Brenda L Croft (Australia)
16beaver (USA)
Daniel Boyd (Australia)
Temporary Services (USA)
Jakob Jakobsen (Denmark)
Lisa Kelly (Australia)
SquatSpace (Australia)
Claire Healy and Sean Cordeiro (Berlin/Sydney)
Evil Brothers (Ned and Tom Sevil, Australia)
You Are Here (Keg de Souza and Zanny Begg, Australia)
Michael Rakowitz (USA)
Miklos Erhardt and Little Warsaw (Hungary)
Bijari (Brazil)
Democracia (Spain)
A re-enactment of Allan Kaprow's Push and Pull: A Furniture Comedy for Hans Hofmann (with thanks to the Allan Kaprow Estate).
Jakob Jakobsen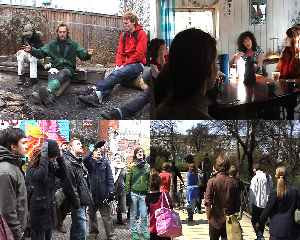 Urban Free Classes, 2005.
Jakob Jakobsen is a visual artist, activist and organiser living and working in Copenhagen. His main activity has been the Copenhagen Free University (2001-2007)(copenhagenfreeuniversity.dk) and the Infopool network in London (2000-)(infopool.org.uk). He was co-founder, and the first chair, of the UKK (Young Art Workers) in Denmark 2002-2003 and has, in recent years, been involved in organisng seminars and protests on workers/migrants rights and autonomous spaces in Copenhagen. He is co-founder of tv-tv, a local activist television station in Copenhagen 2004 and initiator of Fri Klasse, an urban school project in Copenhagen, 2005-2006 (friklasse.dk). He has contributed to exhibitions at Kunstihoone, Tallinn; Witte de With, Rotterdam; Casco, Utrecht; Wattis Institute, San Franscisco; Shedhalle, Zürich; Insa Art Space, Seoul; Baltimore Museum of Art, Baltimore; Whitechapel Art Gallery, London; Munchen Kunstverein, Munich; Rooseum, Malmö; Tramway Gallery, Glasgow; John Hansard Gallery, Southampton; Wiener Secession, Wien; Louisiana, Humlebæk, et al.